Hustling Hawkeyes Sport Camps are designed for children aged 7 - 12, wanting to discover new talents, be active, and have fun while playing a variety of sports! All experience levels welcome. Groups will be co-ed, a combination of all skill levels, and will be split into two age groups (Black Hawks and Gold Hawks). Basic instruction in various sports is given, and this camp is not affiliated with Iowa Athletics.
Camp Game Plan
Throughout each day, our schedule is set up to expose campers to a variety of sports and games that they may have or not have played before. We play anything from basketball to soccer to lacrosse and everything in between. Additionally, campers will be able to mix it up by spending time swimming in the pool, climbing on the rock wall, or catching their breath during our downtime activities (watching movies, playing classroom games, etc).
Prior to the beginning of each week of camp, two groups will be formed according to age.
Structured camp activity is scheduled 9:00 a.m. – 3:45 p.m. each day. The complete schedule for each week can be viewed in the section above
Registration opens Wednesday, February 22, 2023.
Registration is available online only.
Internet Explorer does NOT work with our registration portal. Please use Chrome or Firefox

.

You must have an online account with us to register. If you do not have an account, we recommend setting up an account PRIOR to registration opening.

You can sign up for an account at any time. Learn how to set up an account and how to register here. If you have questions please call 319-335-9293 or stop by the Campus Recreation & Wellness Center or Field House Member Services desk. 

If you are familiar with our online registration process, click the "Register" button within the week of camp you wish to register for.
After you have registered:
If you need to confirm your camp dates and information, you can do so by logging into your Recreational Services account 

here.

 

Once logged in, click your username in the upper right-hand corner, and then select "profile".
Under "Programs," you should be able to see the camps you are registered for.
Click on the "Print" button, and a PDF will display all the details of your registration.

If you did not sign up for After-Care during you initial registration and are not able to pick up your child by 4:15 p.m. for any days during the week, you should enroll in our After-Care program 

here.

 

After-Care is available from 4:15 - 5:15 p.m. each day and is an additional charge of $40/week ($25 for the week of July 5-7).

If you are submitting camp registration fees for childcare credit for tax purposes, please contact Matt Schaefer to receive the proper documentation. 
We're excited that scholarship opportunities are available through E.B. Green and United Way. Thank you to these organizations for providing support to children to attend camp! If your child receives a scholarship, please register by calling Matt Schaefer at 319-467-0602.
Families will receive a refund minus the non-refundable processing fee ($80.00) if canceling four weeks prior to the start of camp attending.

Refunds will not be issued for no-shows.

If you need to cancel, please call Matt Schaefer at 319-467-0602 and complete the 

online refund request form

.

The camp director reserves the right to dismiss any camper whose choices or conduct becomes detrimental to the program, other participants or themselves. No refunds will be made for dismissed campers.
We understand that a medical issue or unplanned emergency may cause a camper the inability to attend camp. 
Please call Matt Schaefer at 319-467-0602 and complete the 

online refund request form

.

A refund may be requested minus the non-refundable ($80.00) processing fee per camp session for each participant not attending.

If a camper is able and there is time and room, an attempt will be made to switch the camper to a different session.
Camps will always begin and end at the Campus Recreation and Wellness Center (CRWC) (309 South Madison Street, Iowa City, IA – see below for directions). On occasion, there may be field trips around campus to allow for more outdoor play or other activities. Information for any nearby, off-campus field trips will be communicated with parents/guardians prior to each week's camp and again upon drop off for that day.
Pick-up and drop-off will be at the southeast entrance of the CRWC.
Coming from W. Burlington Street, turn onto S. Madison Street.

Continue along to the Recreation Center Parking Lot (corner of Court Street and South Madison Street).

The southeast corner entrance is located across the street and adjacent to the parking lot (Picture 1 below).

The entrance will be marked by signs and our staff (Picture 2 below).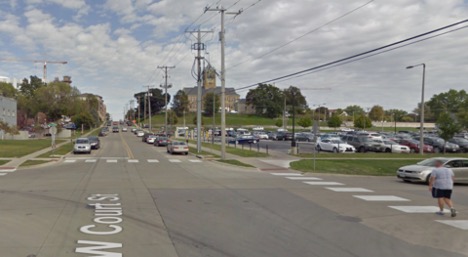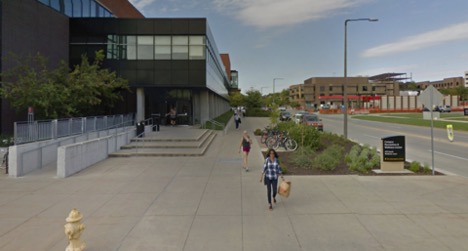 Drop-off procedure
Drop-off will take place from 7:30 – 8:45 a.m.
Parents/guardians should park in the adjacent lot on the corner of South Madison and Court Street or utilize the temporary parking spots adjacent to the building to drop off each camper (parking is free for the first 30 minutes in the lot).

Near the southeast entrance of the CRWC, parents/guardians will be met by a staff member who will direct them to the drop-off station just inside the entrance.

Each parent/guardian will be asked to sign in each of their campers.
Pick-up procedure
Pick-up may take place at any time but is preferred to be 3:45 – 4:15 p.m. 
Parents/guardians should park in the adjacent lot on the corner of South Madison and Court Street to retrieve each camper (parking is free for the first 30 minutes).
Once at the southeast entrance of the CRWC, parents/guardians will need to identify themselves to staff by showing a valid government issued photo ID. Our staff will confirm that the individual is on the authorized pick-up list. 

To add names to the authorized pick-up list, please inform the camp supervisor upon drop-off.

Parent/guardians will then initial the sign-out sheet and will be escorted to the second floor to pick up their camper.

By request, our staff will also be able to escort campers down to the pick-up station to meet their parents/guardians.
After-Care
After-Care will be offered for campers that are not able to be picked up by 4:15 p.m. each day. Care will be provided from 4:15 - 5:15 p.m. and will be an add-on price of $40/week ($25 for the week of July 5-7).
In addition to court activities, swimming, and rock climbing at the CRWC, campers will walk to Hubbard Park on campus each day, weather permitting, to engage in outdoor activities.
Additionally, campers may occasionally walk to the Field House for activities such as pickleball or table tennis. Campers will move together as part of a group and always under the supervision of camp staff. Safety is a top priority when traveling to different spaces on campus.
Active wear (tennis shoes, shorts, T-shirt)

Water bottle

Sunscreen (we expect to be outside for at least an hour each day)

Swimsuit and Towel (swimming days are currently TBD but will occur two days per week except for the week of July 5-7)

Lunch and Snack

NOTE: Campers will NOT be able to purchase foods from the Power Café, Street Hawk Food Truck, nor vending machines during camp. Each of those locations is not near where the camp eats lunch/snack. Additionally, the Power Café is "card only." Campers will need to have their food stored in their backpacks/lunch boxes to be readily available at the time of lunch/snack.

Backpack/bag (recommended that each bag be labeled with each camper's name)
NOTE: Personal items such as cell phones or toys should not be in use during the camp. Campers should leave them in their backpacks.
Lunch and Snack
Each camper will need to provide his/her own lunch.
All lunch boxes will be kept in bins. Items that need to stay cool must be kept cool in a lunch container. We will not have access to a refrigerator or microwave. 

Utensils should be provided by each camper.

It is encouraged that campers leave all cash or change at home as they should not be utilizing any nearby vending machines.
Staffing
Camp will operate at a staff to camper ratio of at most 13:1 for both groups. Typically, the ratio will be 10:1. Additionally, a Camp Supervisor will always be on duty to help coordinate activities and resolve any accidents/incidents. All camp staff have been selected based on previous experience with child care, education, and/or sports coaching, and all have passed a background check.
Safety and medication
Keeping each camper safe is our top priority. Parents/guardians will be immediately notified in case of serious accidents/incidents. For all accidents/incidents, the Camp Supervisor will document the situation to discuss with the parent/guardian upon pick-up.
Please note that our camp staff will not be allowed to administer medication to campers. Should a child require medication during camp, a note should be provided to the supervisor at drop-off. Campers will be responsible for keeping and taking their own medication with oversight from camp staff.
At the beginning of each week, our staff will review with the campers the Rules for Camp as seen below:
Listen

It is really important to listen to your Camp Instructors to know when, where, and how to do things.

When you hear a WHISTLE, the entire group needs to immediately STOP what they are doing to listen for instructions.

When we are in the Pool or at the Climbing Wall, you need to pay especially close attention to the Lifeguards or Climbing Wall staff.
Participate

Camp is fun, so have fun! The purpose of this camp is to play a variety of sports/games each day and to have fun while doing it. 

It is okay if you become too tired to play or need a break. Those taking a break will need to sit aside near the group but will not be allowed to get up to play a different activity.
Water and Bathroom Breaks

Before and after each activity, you will be able to go to the restroom and take a water break. It is important to keep hydrated.

You should have brought your water bottle. Be sure to keep this around all day as we will not have cups available.
Keep Hands to Self

Be mindful of everyone's personal space. Rough play, hitting, or tackling is NOT tolerated and those campers will be sent home.
Leave Phone and Personal Belongings in Backpack

Any phones, toys, colors/coloring books will be left in your backpack unless given permission from the camp staff.

If it's an emergency and you need to call your parents, go to one of the Camp Instructors.
Lunch/Snack

Once you finish eating, you will need to do three things: 1) Throw away your garbage, 2) Put your lunchbox away, and 3) Give your chair to a Camp Instructor to put away. Then you can go play while we wait for everyone else to finish eating.
Ask Camp Instructors for Help

If you ever need help or just want to talk with one of the Camp Instructors, we are here for you!
Discipline System
A Disciplinary Action Form will be documented following any behavior incidents. Please know that refunds will not be given in cases of suspension. 
On the first day of each week of camp, attendees will be sent home with a T-shirt. Second and third-time attendees shall receive different colored shirts (black, gold, or white).