Hustling Hawkeyes Sport Camps are designed for children aged 6 - 13, wanting to discover new talents, be active, and have fun while playing a variety of sports! All experience levels welcome. Groups will be co-ed, a combination of all skill levels, and will be split into two age groups (JV Hawks and Varsity Hawks). 
Camp Game Plan
Throughout each day, our schedule is set up to expose campers to a variety of sports and games they may or may not have played before. Sports range from basketball to soccer to cricket and everything in between. Campers will be able to spend time swimming, climbing on the rock wall, or learning about well-being topics such as exercise, nutrition, and teamwork. 
Prior to the beginning of each week of camp, two groups will be formed.
The younger group of campers (typically 6 - 8 years old) will form the "JV Hawks" while the older group of campers (typically 9 - 13 years old) will form the "Varsity Hawks." 

Should you prefer your camper be placed in one group over the other, please make this request with the camp supervisor during drop-off.
Structured camp activity is scheduled 9:00 a.m. – 3:45 p.m. each day. The complete schedule for each week can be viewed in the section above
Registration opens Monday, February 28, 2022.
Registration is available online only.
Internet Explorer does NOT work with our registration portal. Please use Chrome or Firefox

.

You must have an online account with us to register. If you do not have an account, we recommend setting up an account PRIOR to registration opening.

You can sign up for an account at any time. Learn how to set up an account and how to register here. If you have questions please call 319-335-9293 or stop by the Campus Recreation & Wellness Center or Field House Member Services desk. 

If you are familiar with our online registration process, click the "Register" button within the week of camp you wish to register for.
After you have registered:
If you need to confirm your camp dates and information, you can do so by logging into your Recreational Services account 

here.

 

Once logged in, click your username in the upper right-hand corner, and then select "profile".
Under "Programs," you should be able to see the camps you are registered for.
Click on the "Print" button, and a PDF will display all the details of your registration.

If you did not sign up for After-Care during you initial registration and are not able to pick up your child by 4:15 p.m. for any days during the week, you should enroll in our After-Care program 

here.

 

After-Care is available from 4:15 - 5:15 p.m. each day and is an additional charge of $35/week.

If you are submitting camp registration fees for childcare credit for tax purposes, please contact Matt Schaefer to receive the proper documentation. 
We're excited that scholarship opportunities are available through E.B. Green. Thank you to this organization for providing support to children to attend camp! If your child receives a scholarship, please register by calling Matt Schaefer at 319-467-0602.
Families will receive a refund minus the non-refundable processing fee ($75.00) if canceling four weeks prior to the start of camp attending.

Refunds will not be issued for no-shows.

If you need to cancel, please call Matt Schaefer at 319-467-0602 and complete the 

online refund request form

.

The camp director reserves the right to dismiss any camper whose choices or conduct becomes detrimental to the program, other participants or themselves. No refunds will be made for dismissed campers.
We understand that a medical issue or unplanned emergency may cause a camper the inability to attend camp. 
Please call Matt Schaefer at 319-467-0602 and complete the 

online refund request form

.

A refund may be requested minus the non-refundable ($75.00) processing fee per camp session for each participant not attending.

If a camper is able and there is time and room, an attempt will be made to switch the camper to a different session.
Camps will always begin and end at the Campus Recreation and Wellness Center (CRWC) (309 South Madison Street, Iowa City, IA – see below for directions). On occasion, there may be field trips around campus to allow for more outdoor play or other activities. Information for any nearby, off-campus field trips will be communicated with parents/guardians prior to each week's camp and again upon drop off for that day.
Pick-up and drop-off will be at the southeast entrance of the CRWC.
Coming from W. Burlington Street, turn onto S. Madison Street.

Continue along to the Recreation Center Parking Lot (corner of Court Street and South Madison Street).

The southeast corner entrance is located across the street and adjacent to the parking lot (Picture 1 below).

The entrance will be marked by signs and our staff (Picture 2 below).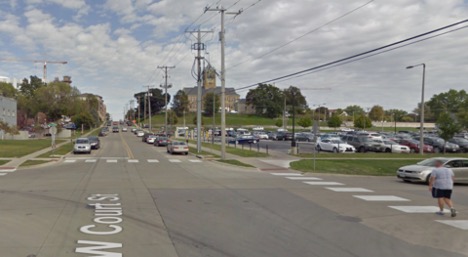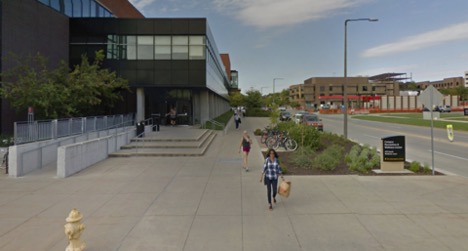 Drop-off procedure
Drop-off will take place from 7:30 – 8:45 a.m.
Parents/guardians should park in the adjacent lot on the corner of South Madison and Court Street or utilize the temporary parking spots adjacent to the building to drop off each camper (parking is free for the first 30 minutes in the lot).

Near the southeast entrance of the CRWC, parents/guardians will be met by a staff member who will direct them to the drop-off station just inside the entrance.

Each parent/guardian will be asked to sign in each of their campers.
Pick-up procedure
Pick-up may take place at any time but is preferred to be 3:45 – 4:15 p.m. 
Parents/guardians should park in the adjacent lot on the corner of South Madison and Court Street to retrieve each camper (parking is free for the first 30 minutes).
Once at the southeast entrance of the CRWC, parents/guardians will need to identify themselves to staff by showing a valid government issued photo ID. Our staff will confirm that the individual is on the authorized pick-up list. 

To add names to the authorized pick-up list, please inform the camp supervisor upon drop-off.

Parent/guardians will then initial the sign-out sheet and will be escorted to the second floor to pick up their camper.

By request, our staff will also be able to escort campers down to the pick-up station to meet their parents/guardians.
After-Care
After-Care will be offered for campers that are not able to be picked up by 4:15 p.m. each day. Care will be provided from 4:15 - 5:15 p.m. and will be an add-on price of $35/week ($28 for the week of July 5-8).
Active wear (tennis shoes, shorts, T-shirt)

Water bottle

Sunscreen (we expect to be outside for at least an hour each day)

Swimsuit and Towel (swimming is scheduled for Mondays, Wednesdays, and Fridays)

Lunch and Snack

Backpack/bag (recommended that each bag be labeled with each camper's name)
NOTE: Personal items such as cell phones or toys should not be in use during the camp. Campers should leave them in their backpacks.
Lunch and Snack
Each camper will need to provide his/her own lunch.
All lunch boxes will be kept in coolers, and we will not have access to a refrigerator or microwave. 

Utensils should be provided by each camper.

It is encouraged that campers leave all cash or change at home as they should not be utilizing any nearby vending machines.
Staffing
Camp will operate at a staff to camper ratio of 8:1 for both groups. Additionally, a supervisor will always be on duty to help coordinate activities and resolve any accidents/incidents. All camp staff have been selected based on previous experience with child care, education, and/or sports coaching, and all have passed a background check.
Safety and medication
Keeping each camper safe is our top priority. Parents/guardians will be immediately notified in case of serious accidents/incidents. For all accidents/incidents, the camp supervisor will document the situation to discuss with the parent/guardian upon pick-up.
Please note that our camp staff will not be allowed to administer medication to campers. Should a child require medication during camp, a note should be provided to the supervisor at drop-off. Campers will be responsible for keeping and taking their own medication with oversight from camp staff.
At the beginning of each week, our staff will review with campers how to behave in each area of camp:
Hallways

: 

Campers are expected to proceed through the hallways with caution for other recreation center members.

No running is allowed.

Campers should never scream or yell.

Campers should always be accompanied by two others (one counselor and another camper/counselor) when walking throughout the facility. It is also best to have each camper walk themselves; there is no need to hold hands and they should not be carried in any way.   

MAC Courts: 

This space will be used for lunch and snack time. 

During these times, campers are expected to be sitting in chairs. 

Typically, a counselor will be explaining instructions on what to do next, so listening is important. 

It is best for campers to stay relatively quiet (no yelling).

Locker Rooms:

 It is most important for campers to be well-behaved while in the locker room, as this is the only space that is shared between campers and other recreation center members.

Campers need to be quiet and listen to instructions by instructors. 

No running is allowed as this space is not designed for play. 

Courts/fields: 

The courts are designed for campers to be more active and play, so running and jumping around is expected. 

In this area, many different types of equipment are used, such as balls. Instructors should advise campers to be careful and not to hurt others by being reckless with the equipment.  

This is also a place where being louder is acceptable. Still, campers should not be constantly yelling or disrupting other recreation members in nearby courts. 

Climbing Wall: 

This area is perhaps the most dangerous space for campers as there is much equipment that can cause harm. Additionally, climbing on the wall when not properly watched can be extremely dangerous. Thus, it is important for campers to enter the climbing wall area when calm and each one should be actively listening for instructions from instructors. 
Discipline System
We do not anticipate having many disciplinary incidents, but you are free to view our Disciplinary Action Form to be filled out and documented by camp supervisors following any behavioral incidents. Please know that refunds will not be given in cases of suspension. 
On the Monday of each week of camp, attendees will be sent home with a T-shirt. Second and third-time attendees shall receive different colored shirts (black, gold, or white).